Wholesale energy prices are finally coming down after more than a year of record price levels around the world caused by supply issues and other problems.
You won't see this reduction in your bills until later this year,

and short term you'll even see a slight increase from April 2023. The Chancellor extended the Energy Price Guarantee, but has ended the £400 grant for bills.
Despite bill prices slightly rising from April, industry experts like

Cornwall Insight

(and others) predict a fall in energy bills from July 2023.
Here's a breakdown of the key factors behind higher prices and details of hopeful signs of lower costs on the horizon.
If wholesale gas is getting cheaper, why aren't bills for households going down?
Wholesale energy prices got dramatically more expensive in 2021, which had a knock-on effect on domestic bills.
In the graph below ⬇️ you can see that increases in the orange line (your bills) rise after peaks in the green line (wholesale gas prices)
This is because almost all energy companies buy their power through a process called hedging, which is buying energy in advance.
Hedging is the practice of forecasting future energy prices and buying in bulk at those prices to meet customer demand for a set period of time.
Hedging means the supplier doesn't go out of business if energy prices suddenly change because they always have the money (in theory) to buy the gas and electricity their customers need.
More than 30 suppliers went out of business in 2021, because many of them didn't hedge when buying and couldn't meet rising costs.
Buying in advance means the impact of wholesale costs on bills is delayed.
Hedging is a benefit to energy companies because it keeps them in business. It also helps keep energy bill prices as stable as possible for customers. "As stable as possible" doesn't necessarily mean cheap, as we've seen throughout the crisis.
In the graph below you can see that domestic costs for energy got higher after wholesale costs did.
This graph shows the Standard Variable Tariff (SVT) for domestic energy bills contrasted with the price of wholesale gas.

You can see that the orange line (domestic bills) consistently rises after the green line (wholesale gas prices).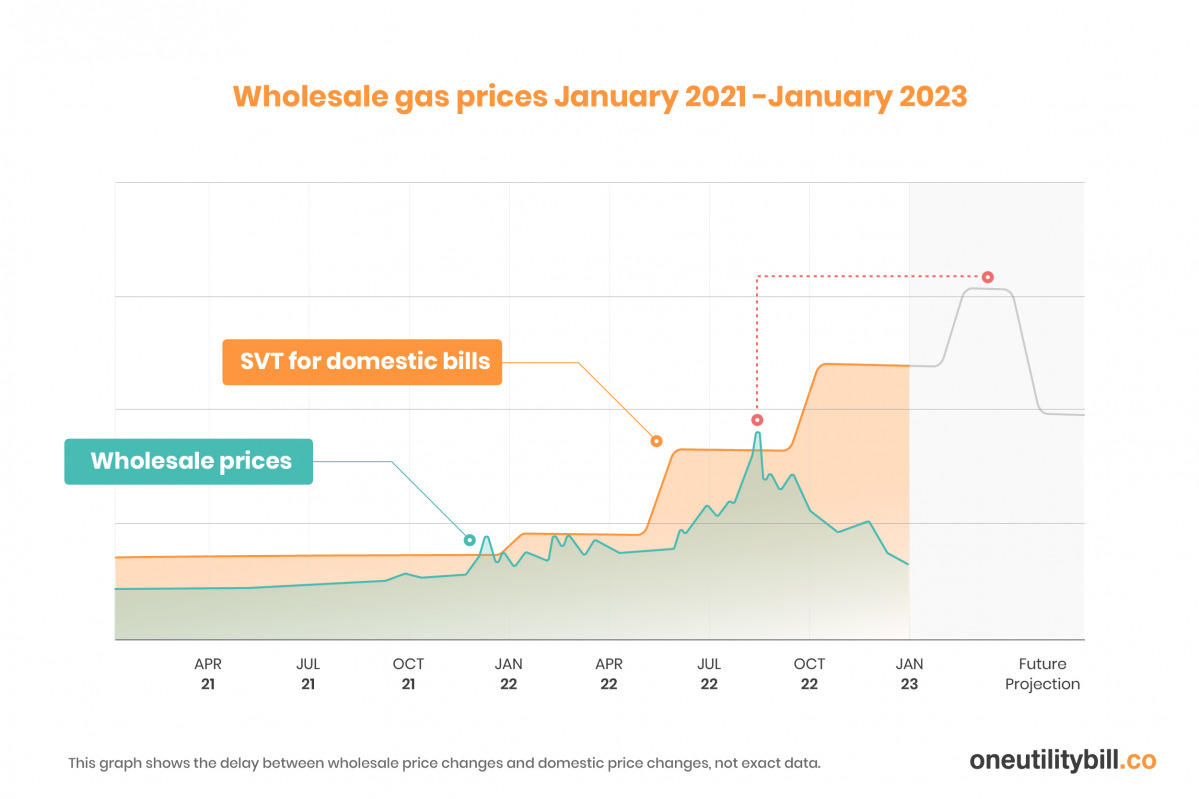 What you can see in the graph, is a delay between wholesale prices rising and domestic prices rising. We'll see a similar delay when prices fall.
Will energy bills get cheaper in 2023?
Basically, yes, because wholesale gas has gotten less expensive recently, but you won't see cheaper bills until around July by most predictions.
This means that April, May and June will have slightly higher bills than before, but after that bills should start to fall. That doesn't mean we'll get cheap energy, but it will be cheaper than it has been in last year or so.
This fall in prices is based on projected data, so nothing is certain, but many experts and analysts are confident that bills will go down from July 2023.
These numbers are both a good sign that prices could go down soon.
As soon as cheaper tariffs are available, your One Utility Bill package cost will come down too. At the start of the energy crisis One Utility Bill absorbed increased costs for as long as possible to keep our bills packages at the same rate we'd quoted. This wasn't sustainable beyond April 2022 but we've been constantly looking for ways to reduce prices throughout the crisis.
One Utility Bill works with utility suppliers, but we have no control over their prices so all we can do is be as transparent as possible on the situation as we get the information.
Why are energy bills so expensive in the first place?
The crisis has a lot of causes, which we've covered in our energy crisis roundup blog if you want more detail.
The short version is:
Supply issues and technical problems across Europe

High demand for gas and low gas stores across Europe during a very cold winter in 21/22

The Russian Invasion of Ukraine and the sanctions placed on Russia as a result meant a reduced supply of gas to most of Europe

Many other factors that affected the cost of gas, including the pandemic
Increases to the wholesale cost of gas also increased demand for electricity, as people and businesses tried to use electricity as a substitute wherever possible. High demand means higher costs. You can see the change in wholesale costs in this graph.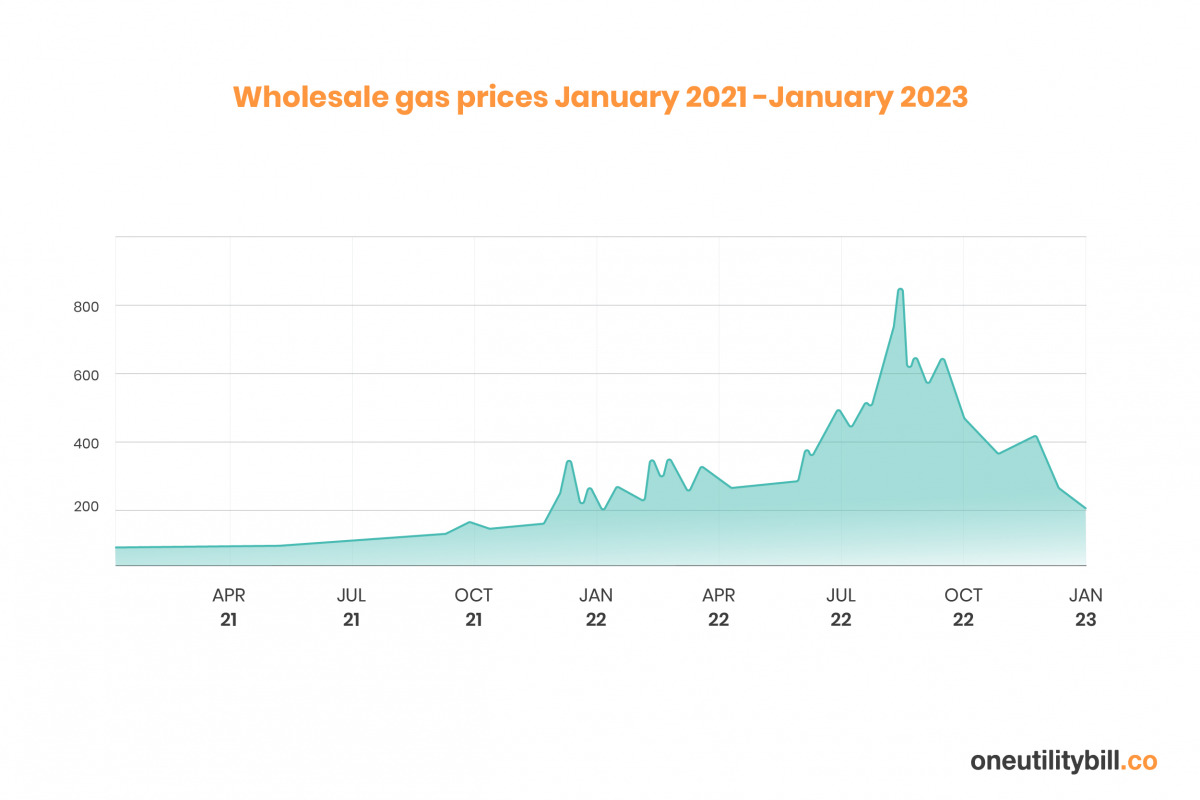 What about government support and the Energy Price Guarantee?
The government introduced a £400 grant to help people cope with price rises and pay their bills over the cold winter months.
The £400 energy grant covered bills between October '22 and March '23 and was paid to energy companies and passed on to customers through reductions in their bill.
The Energy Price Guarantee (EPG) was introduced to replace the Ofgem energy price cap when it became unfit for purpose.
Prices were going to increase to £3000 under the Energy Price Guarantee in April 2023.
Hunt has now announced that the EPG will be kept at £2500 three more months from April to June 2023.
This means that bills won't increase as much as expected. Most people will now only see a slight increase to their bills with the change in support:
The monthly discount from the £400 grant will no longer be applied

Prices will stay at £2500 a year for a typical household until the end of June
Is there any other support available?
Bills management is our area, so when it comes to additional support, we're not the experts. Here are some other places that could help you: