Sending regular meter readings to your energy supplier means accurate bills. You also won't be held responsible for energy you didn't use.
Here's a rundown of the most common types of gas meter. They measure the amount of gas you use in either cubic metres (m3) or cubic feet (ft3), and you're charged based on whatever tariff you've agreed with your supplier.
If you haven't got a smart meter or prepayment meter, you've got a credit meter, which is what we'll cover here.
Your gas supplier will use your meter readings to make sure your actual usage matches the estimated usage your monthly direct debit is based on. If you don't send regular meter readings, you could be underpaying for the gas you're using and end up with a bill at the end of your contract.
If you're on a capped energy deal, your gas bills are based on an estimate of the energy you'll use, not your actual usage. If you don't send meter readings, and consistently use more than your energy provider estimated. You'll get a bill for the difference at the end of your contract.
Metric Gas meter
Reading – 08053
This metric gas meter has a reading of 08053, and is measured in cubic meters.
For this type of meter you need to ignore any numbers in red, only reading the dials in black left to right.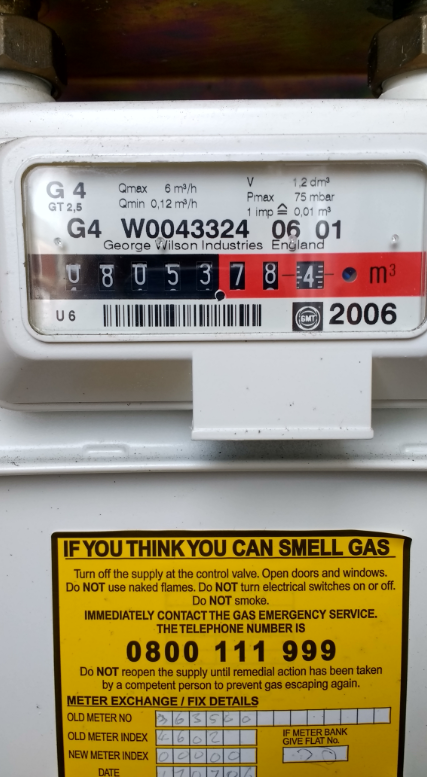 Imperial Gas Meter
Reading – 7578.
This gas meter type measures in cubic feet. The numbers in the black dials are the meter reading your supplier would need.
Imperial gas meter
Reading – 1098.
This meter looks a little different to the other example above. This is normal, and they should be read in the same way. There's a lot of variety when it comes to how meters look, but they way you take readings should stay more or less the same.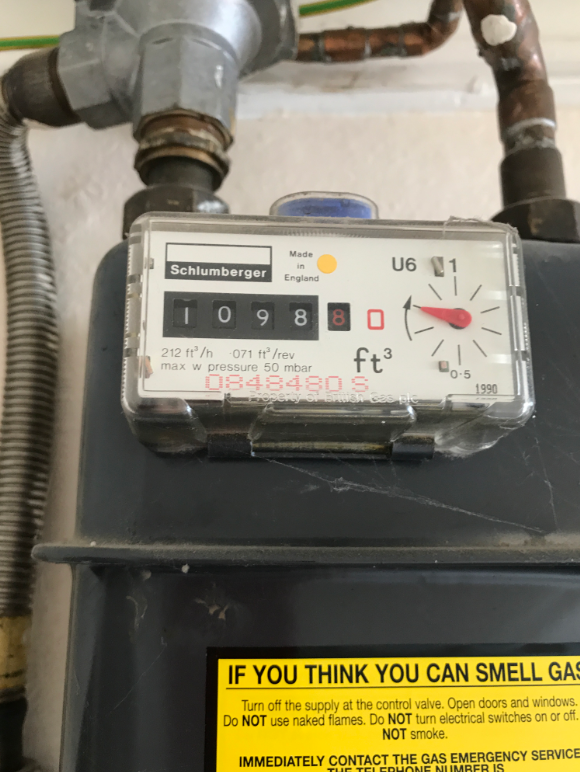 Dial gas meter
Reading this type of meter can be confusing, and there's a reason they're not as common as they used to be! Each dial turns in the opposite directly to the one before, which is important when it comes to figuring out which is the lower number in a moment.
Read the dials from left to right. Ignore red dials or dials marked 1/10 if there are any. There aren't on this example.
If the pointer is between two numbers, the lower one is what you need to write down. If the pointer is pointing straight at a number, write it down and underline it.
For any underlined numbers, check the dial to the right. If that dial's pointer is between 9 and 0, subtract 1 from the underlined number.

e.g. If you originally wrote down 5, change it to 4.